Many people are curious as to who qualifies as a dependent on a tax return. I get questions like:
Can I claim my college students?
Is a spouse a dependent?
Can I claim my girlfriend on my taxes?
These are just a few of the must common questions asked. On today's article I will explain who qualifies as a dependent on your taxes this year.
THIS POST MAY CONTAIN AFFILIATE LINKS. PLEASE READ MY DISCLOSURE FOR MORE INFO. Which means if you click on any of the links, I'll receive a small commission. 
Who Can I Claim as a Dependent on My Taxes
Can I claim my relative as a dependent?
There are four tests that must be met before you can claim a person as your relative.
Did Not Qualify as a Child Test
Member of Your Household or Relationship Test
Gross Income Test
Support Test
Note: There is no age requirement to qualify someone as a relative.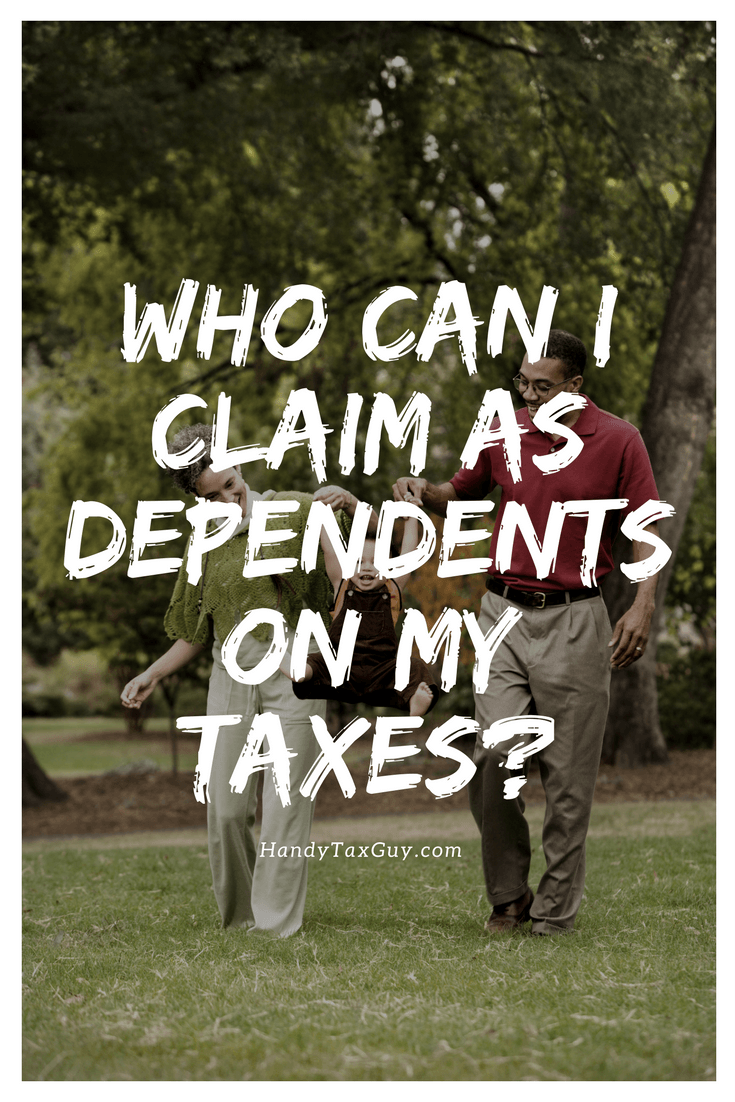 1. Did not Qualify as a Child Test
To meet this test, the relative cannot be your qualifying child or anyone else's qualifying child.
2. Member of Your Household or Relative Test
To meet this test, your relative must either:
Live with you all year as a member of your household
Be related to you in one of the following ways:

Child, stepchild, foster child or descendant of any of them
Brother, sister, half-brother, half-sister, step-brother, or step-sister
Father, mother, grandfather, or other direct ancestors, but not a foster parent.
Step-father or step-mother
Son or daughter of brother, sister, half-brother, or half-sister
Brother or sister of mother or father, in other words aunt or uncles.
Son-in-law, daughter-in-law, father-in-law, mother-in-law, brother-in-law, or sister-in-law.
3. Gross Income Test
To meet this test, you relative's gross income for the year must be less than $4050.
4. Support Test
To meet this test, you must provide more than half of your relative's total support during the year.
How do I determine if I support my relative?
To determine if you provided your relative with more than half of the year financial support, compare the amount you contributed to the relative with the amount your relative received from any other sources but you.
Things that can be considered as support includes amount spent to provide:
Food
Lodging
Clothing
Education
Medical and dental care
Recreation
Transportation and other similar necessities.
For more information regarding support calculations, please see IRS publication 17.
Can I claim a relative who was born or died during the year?
If a relative died during the year, but lived with you as a member of your household until death, that relative meets the residency test. The same goes for a child who was born during the year and lived with you as a member of your household for the rest of the year.
Have you ever had any issues claiming a relative on your taxes? If so, let me know what tip you would give to others to make the process easier. If you want more handy tax tips, then feel free to check out my latest articles here.
File your simple tax return here or sign up to get on the waiting list if you'd like to file with me.
---
If you enjoyed this article, then you'll love these:
For more money-saving tips and guides, subscribe to the weekly newsletter!
I'm super grateful when you share my posts on Twitter, Instagram, Facebook, or Pinterest. It helps spread the word about The Handy Tax Guy and allows me to keep bringing you great content.
Until the next money adventure, take care!
Handy

All data and information provided on this site is for informational purposes only. The Handy Tax Guy makes no absolute representation to the correctness, mistakes, omissions, delays, appropriateness, or legitimacy of any information on this site. 
**Note: Each client circumstance will vary on a case by case basis**