What are Tax Exemptions?
Tax exemption is a monetary amount given to help reduce your taxable income. Usually, you can deduct a specific amount for each exemption claimed for that particular tax year.
There are 2 types of exemptions you can deduct:
Personal exemptions for you and your spouse
Exemptions for dependents known as dependency exemptions
THIS POST MAY CONTAIN AFFILIATE LINKS. PLEASE READ MY DISCLOSURE FOR MORE INFO. Which means if you click on any of the links, I'll receive a small commission. 
Income Tax Exemptions
Personal Tax Exemptions
You are generally allowed one personal exemption for yourself. If married, you may be allowed one exemption for your spouse.
If you or your spouse can be claimed as dependents, then you or your spouse cannot take an exemption for yourselves.
You can claim an exemption for your spouse at any of the following cases:
You and your spouse were considered married on the last day of the year.
Your spouse died during the tax year and you did not remarry before the end of the same tax year.
If you are filing "married filing separately," you can claim an exemption for your spouse. This can only happen if your spouse has no income for the year.
What if my spouse is deceased?
The following applies when you have a deceased spouse:
You may be able to claim your spouse's exemption if your spouse died during the year and you file a joint return with the deceased spouse.
If you file "married filing separate" return for the year, you might be able to claim your spouse's exemption under the rule for filing a separate return.
You remarried during the tax year, then you cannot take an exemption for the deceased spouse.
If you are a surviving spouse without gross income and remarried in the tax year your spouse died, you can be claimed as an exemption on both the final married filing separately return of your deceased spouse and a separate return of the new spouse for that year.
You filed a joint return with your new spouse, then you can be claimed as an exemption only on that return.
How can I claim the dependent exemption?
You can take one exemption for each person who can be claim as your dependent. Dependents are either your qualifying child or qualifying relative.
Some examples of dependents include a child, stepchild, brother, sister, or parent. You can claim one exemption for each qualifying dependent which may reduce your taxable income.
Remember: If you can claim another person, even if you do not actually do so, that dependent cannot take a personal exemption on his or her tax return.
Note: Your spouse cannot be claimed as a dependent, but can be claimed as a personal exemption.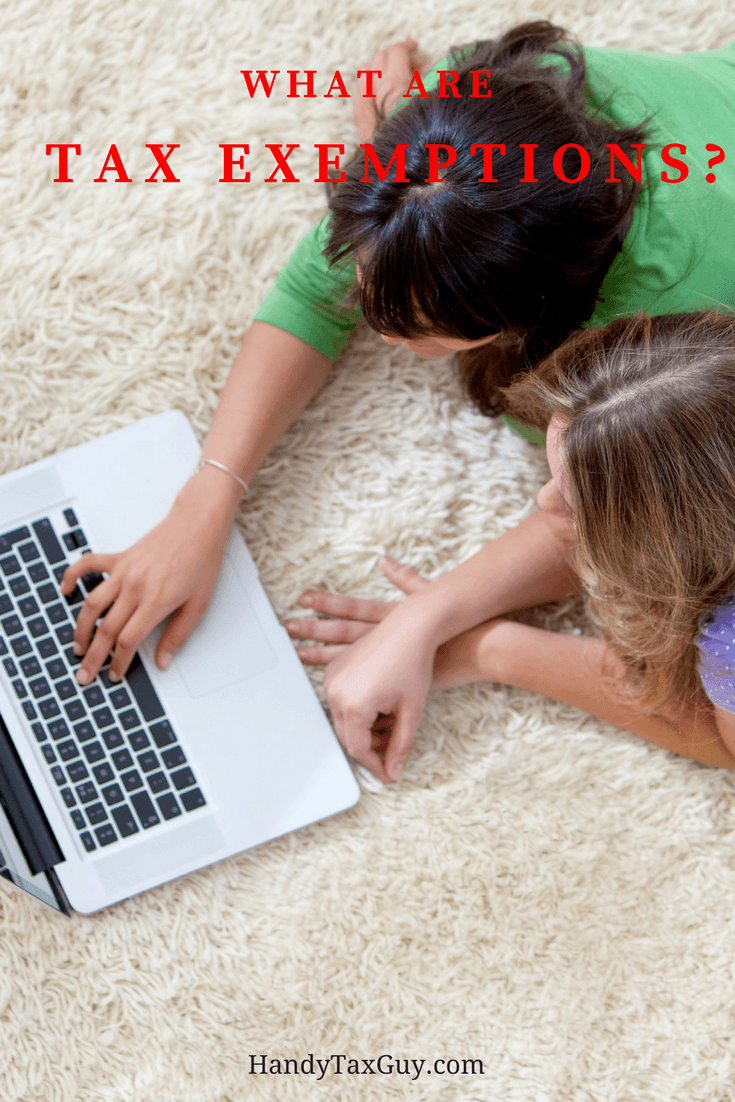 Quick Dependent Exemption Tests
To qualify to take a dependent exemption, the following tests must be met:
If you can be claim as a dependent by another person, then you cannot claim any dependents on your tax return.
You cannot claim a married person as a dependent if the person in question is filing a joint return.
You can claim an exemption for a person who files a joint return. This is possible if that person (and spouse) filed a joint return only to claim a refund of income tax withheld or estimated tax payments.
You cannot claim a person as a dependent unless that person is a United States citizen, United States resident alien, United States national, or a resident of Canada or Mexico. Certain exceptions are allowed. For more information, please see IRS publication 501.
Example: Michael and Holly are married, filing a joint return and have 3 children who are full-time students under the age of 18. Michael and Holly provide 100% financial support for each child. Based on the current tax year, the personal and dependent exemption amount is $4050.

They would be allowed to claim 5 exemptions: 2 personal exemptions for the themselves, and 3 for their dependent children.
I hope this article helped you gain some control of your tax plan this year. Remember not to stress out. Don't forget to check out The Handy Tax Guy FAQ page for any additional online tax questions.
If you want more handy tax tips, then feel free to check out my latest articles here.  File your simple tax return here or sign up to get on the waiting list if you'd like to file with me.
---
If you enjoyed this article, then you'll love these:
For more money-saving tips and guides, subscribe to the weekly newsletter!
I'm super grateful when you share my posts on Twitter, Instagram, Facebook, or Pinterest. It helps spread the word about The Handy Tax Guy and allows me to keep bringing you great content.
Until the next money adventure, take care!
Handy

All data and information provided on this site is for informational purposes only. The Handy Tax Guy makes no absolute representation to the correctness, mistakes, omissions, delays, appropriateness, or legitimacy of any information on this site. 
**Note: Each client circumstance will vary on a case by case basis**