As the new tax season approaches, you may have already started receiving multiple documents to hand over to your tax preparer or accountant. Among all of those docs you may notice a tax form called a 1098-T. Don't be afraid by this document at all.
Form 1098-T is a Tuition Statement used to help you understand which education credits you may qualify for relating to tuition and other school-related expenses paid during the tax year.
THIS POST MAY CONTAIN AFFILIATE LINKS. PLEASE READ MY DISCLOSURE FOR MORE INFO. This means if you click on any of the links, I'll receive a small commission. 
Two Education Tax Credits You Need to Know About
Before I breakdown the 1098-T Form, I want to first explain what the Education Tax Credits are if you're a qualifying student or parent of a qualifying student.
The Lifetime Learning Credit
This credit gives up to $2,000 for qualified education expenses paid for with eligible students per return.
Lifetime Learning Credit = 20% of the first $10,000 of qualified education (max of $2000)
American Opportunity Credit
This credit allows you to claim the $2,500 American Opportunity Credit for each qualifying student on your federal income tax return.
What's is the 1098-T Form?
Basically, the 1098-T Form is information about educational expenses that may qualify you as the student or the student's parents or guardian, if the student is still a dependent. This is for the education-related tax credits mentioned earlier only.
File with Ease from Home Today!
Eligible institutions for 1098-T:
Colleges
Universities
Vocational schools
The mentioned schools and institutions are participants in the Department of Education's student aid programs.
Your institution must include its name, address, and information contact telephone number on this statement. It may also include contact information for a service provider.
Remember: For your protection, this form may show only the last four digits of your TIN (SSN, ITIN, ATIN, or EIN). However, the issuer (your school) will have reported your complete TIN to the IRS.
What is a qualified expense for 1098-T form:
Qualified expenses include tuition, any fees needed for enrollment, and course materials required for you to be enrolled. However, if someone else pays such as a parent, you will still get the credit and the parent will get to use the 1098-T form on their taxes.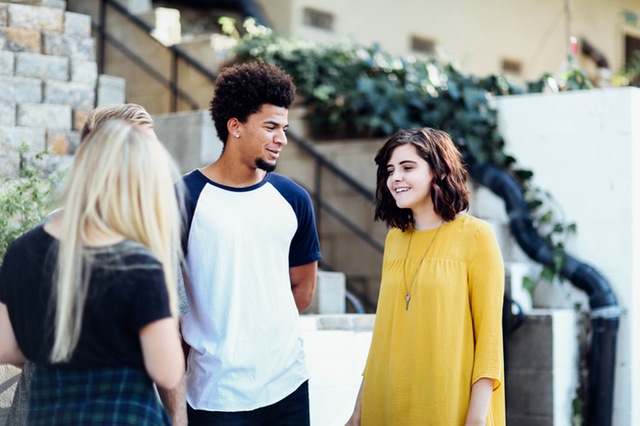 Schools can report a student's qualified expenses one of two ways: based on how much the student actually paid during the year, or based on how much the school billed the student during the year.
Who qualifies for the 1098-T form?
You, or the person who can claim you as a dependent, may be able to claim an education credit on Form 1040.
Schools must send Form 1098-T to any student who paid "qualified educational expenses" in the preceding tax year.
When Should You Received 1098-T form?
Schools must send the form to you by January 31 and file a copy with the IRS by February 28.
Read: Your Ultimate Guide to Etsy Taxes and Tips for Shop Owners
1098-T Form Explained
When you receive your 1098-T, you will see multiple boxes on the form. I am going to breakdown what each box represents in order to you understand.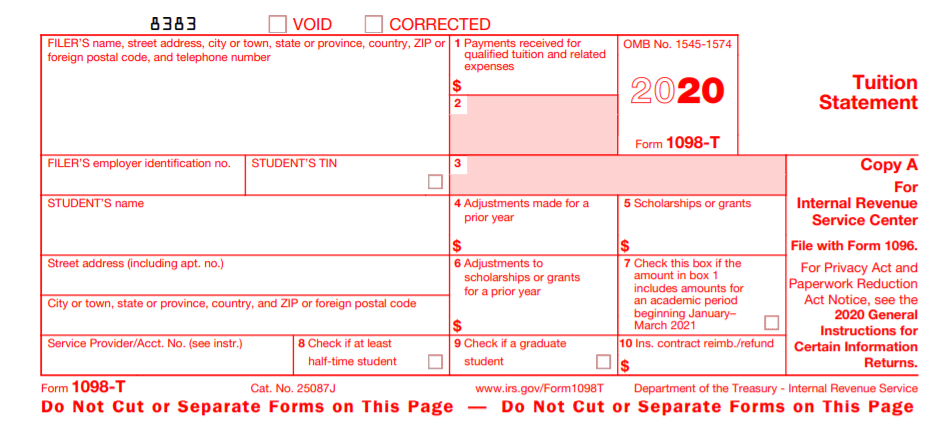 Box 1. Payments Received for Qualified Tuition and Related Expenses
This is the whole amount of payments and expenses received by your school in current tax year.
Box 2.
This box reports paid and unpaid Qualified Education Expenses.
Box 3.
If a school changes its reporting method, then it would use this box for the IRS to review.
Box 4. Adjustments Made for a Prior Year
Shows any adjustment made by your school for a previous year of eligible tuition and expenses reported on a prior year Form 1098-T. The amount reported may decrease any of the education credits you claimed for the prior, which may make your tax bill higher.
Box 5. Scholarships or Grants
Shows the total of all scholarships or grants administered and processed by your school for the year. It may also includes those not reported and may reduce the amount of the education credit you can claim.
File with Ease from Home Today!
Box 6. Adjustments to Scholarships or Grants for a Prior Year
This box shows the adjustments of any scholarships or grants for a prior year which may affect the amount of any allowable tuition and fees, deductions or education credits.
Box 7. Checked if the Amount in Box 1 Includes Amounts for an Academic Period Beginning January–March of The Next Year
This displays if the amount in box 1 includes amounts for an academic period beginning January–March of the FOLLOWING YEAR.
Box 8. Check if at Least Half-time Student
This box states whether you are considered to be carrying at least one-half the normal full-time workload at your school.
Box 9. Enrolled in A Program Leading to A Graduate Degree
This is completed when you are considered to be enrolled in a program leading to a graduate degree, graduate-level certificate, or another recognized graduate-level educational credential.
Box 10. Amount of Reimbursements or Refunds of Qualified Tuition and Related Expenses Made by An Insurer
In this box you will see the total amount of reimbursements or refunds of qualified tuition and related expenses made by an insurer.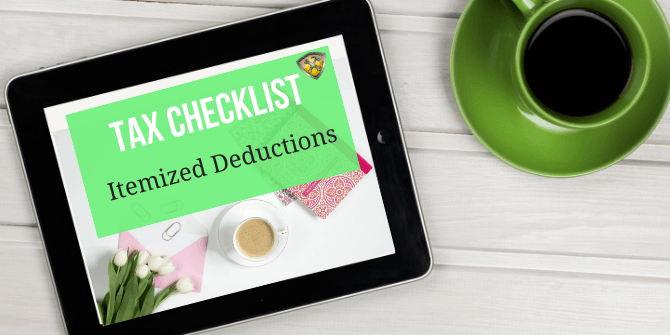 Final Thoughts
I hope this breakdown of the 1098-T tax form help you discover some additional credits to claim. Let me know if you've ever seen great tax breaks using the 1098-T form in the comment section below.
If you want more handy tax tips, then feel free to check out my latest articles here.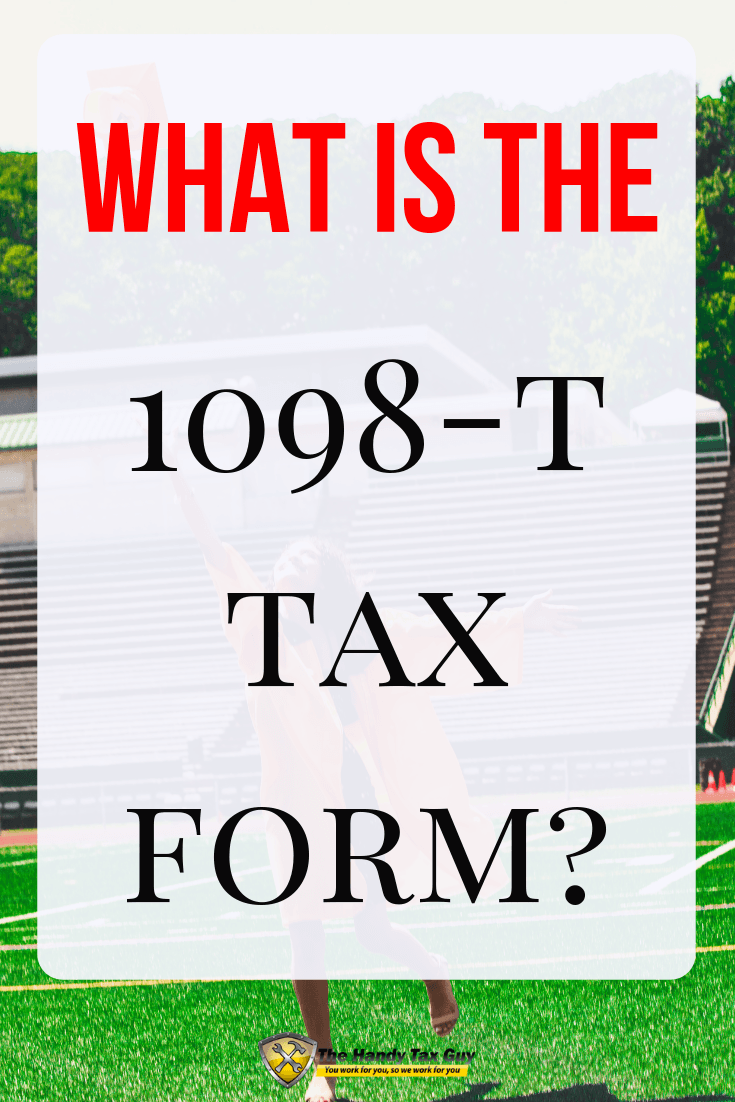 For more money-saving tips and guides, subscribe to the weekly newsletter!
---
If you enjoyed this article, then you'll love these:
Get started on your taxes early here!
Until the next money adventure, take care!
Handy

THIS POST MAY CONTAIN AFFILIATE LINKS. PLEASE READ MY DISCLOSURE FOR MORE INFO. This means if you click on any of the links, I'll receive a small commission. 
(Original Article Date: December 23, 2018/Updated June 27, 2020)