Are you trying to figure out if you qualify for Earned Income Credit (EIC)? Also known as Earned Income Tax Credit (EITC).
Well, no need to worry.
Today we will go over what conditions need to be met, such as your filing status, income, number of kids and more.
In the case where the required conditions are met, you can then easily apply for the Earned Income Credit.
THIS POST MAY CONTAIN AFFILIATE LINKS. PLEASE READ MY DISCLOSURE FOR MORE INFO. This means if you click on any of the links, I'll receive a small commission.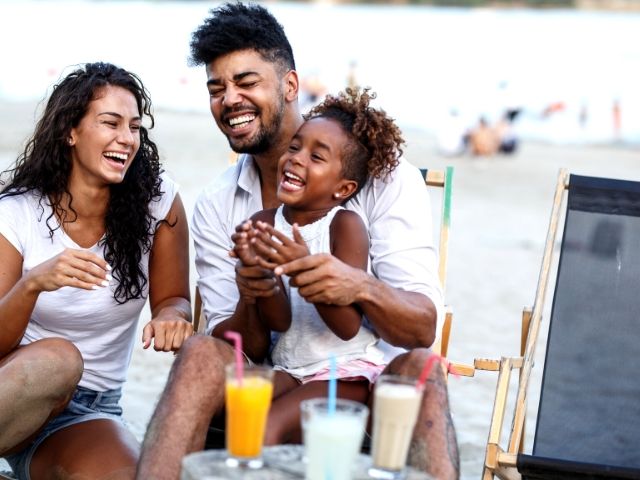 What's is the Earned Income Credit (EIC)?
The Earned Income Tax Credit is geared towards everyday working people with low to moderate income. It's also used to be a to truly help families making a lower salary who are doing their best, but still need a bit of help.
In essence, you can view this tax credit as a way to equal a fixed percentage of your earnings that are spread over the certain time from the first dollar of earnings to the last dollar when the credit reaches its maximum.
It works by a term that the IRS calls "phasing in or out." This basically means that the maximum amount of credit you receive is paid until your earnings reach a specified level (something we will discuss below).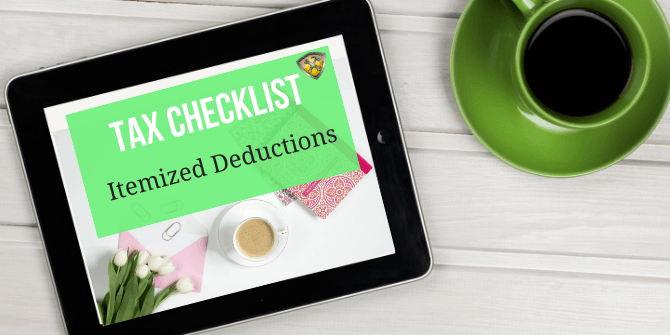 After it reaches that max level, it the amount of credit that you can be eligible begins to get lower with each addition dollar you have made in your income until there isn't any credit is available.
2020 Max Earned Income Tax Credit Allowance
$6,660 with three or more qualifying children
$5,920 with two qualifying children
$3,584 with one qualifying child
$538 with no qualifying children (must be at least 25 and not older than 64)
As you can see, families with children are likely to receive a much higher Earned Income Tax Credit when compared to some who doesn't have qualifying children.
What child qualifies?
A qualifying child is simply defined as anyone who meet the stated requirements based on age, residency status, relationship and tax filing status of the tax payer.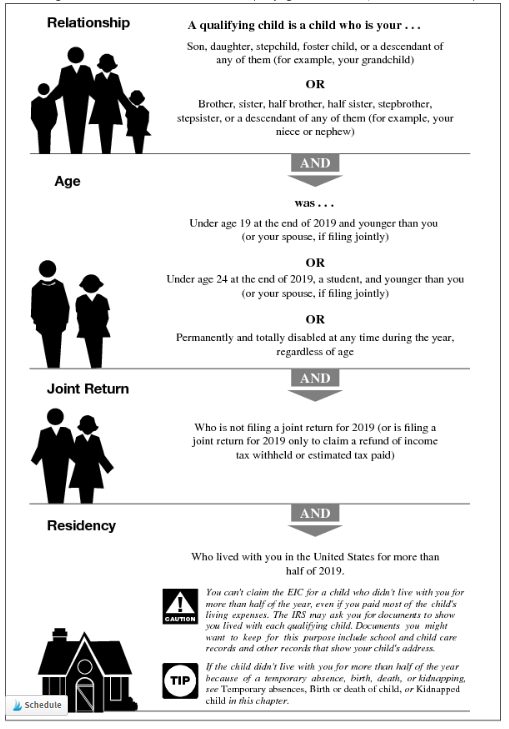 There are 5 tests that must be met for a child to be considered your qualifying child.
Relationship (son, daughter, step-child, step-sibling, etc.)
Age (under the age of 19 unless a college student)
Residency (living with you)
Support (you provide the majority of support)
Joint Return (your child cannot file a married filing jointly return for that year)
Read: Best Rules for Claiming a Dependent on Your Tax Return
2020 Earned Income Credit Qualifying Child Chart
Filing Status
Qualifying Children Claimed
Zero
One
Two
Three or more
Single, Head of Household or Qualifying Widow(er)
$15,570
$41,094
$46,703
$50,162
Married Filing Jointly
$21,370
$46,884
$52,493
$55,952
Take a Look at these EIC Examples Below
Below are two charts showing what you can expect with the phase-in and phase-out scenarios for the EITC.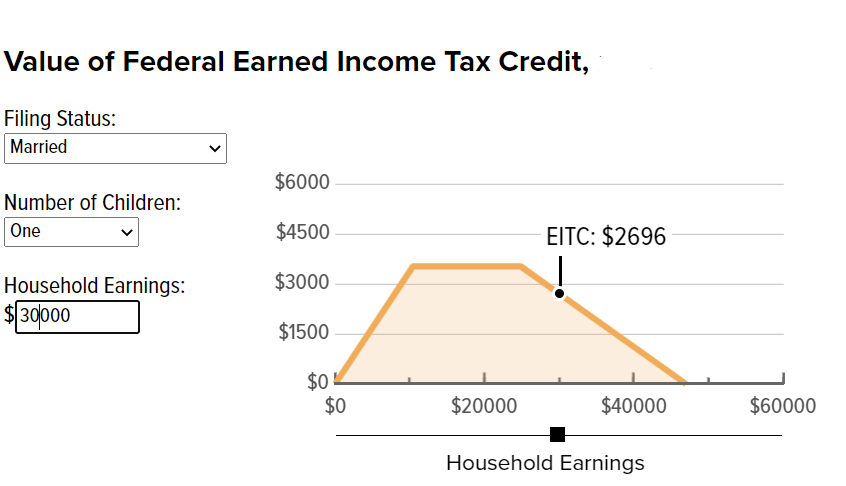 Photo Source: CBPP.org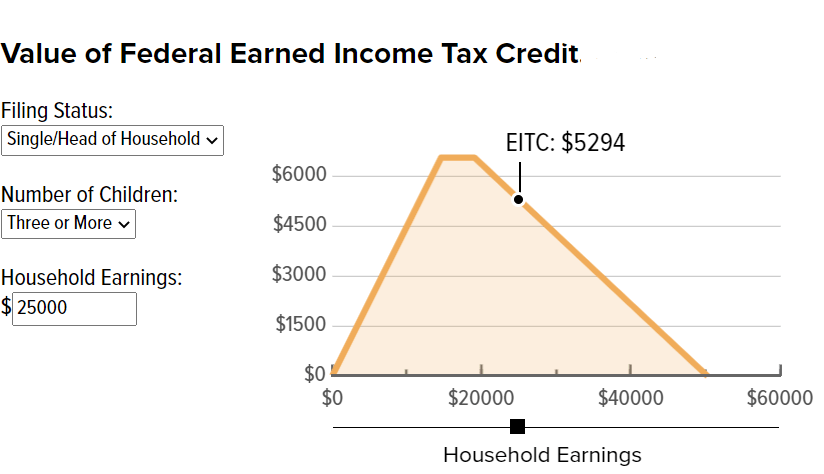 Photo Source: CBPP.org
As you can see, the "phase in and out" amounts truly depend on each person's circumstance.
File with Ease from Home Today!
Earned Income Tax Credit Parameters Filing Single
| | | | | | | |
| --- | --- | --- | --- | --- | --- | --- |
| | Phase-in Rate | Phase-in Ends | Maximum Credit Amount | Phase-out Begins | Phase-out Rate | Phase-out Ends |
| Childless | 7.65% | $6,920 | $529 | $8,650 | 7.65% | $15,570 |
| 1 Child | 34% | $10,370 | $3,526 | $19,030 | 15.98% | $41,094 |
| 2 Children | 40% | $14,570 | $5,828 | $19,030 | 21.06% | $46,703 |
| >2 Children | 45% | $14,570 | $6,557 | $19,030 | 21.06% | $50,162 |
Source: CBPP.org
Earned Income Tax Credit Parameters Filing Single
| | | | | | | |
| --- | --- | --- | --- | --- | --- | --- |
| | Phase-in Rate | Phase-in Ends | Maximum Credit Amount | Phase-out Begins | Phase-out Rate | Phase-out Ends |
| Childless | 7.65% | $6,920 | $529 | $14,450 | 7.65% | $21,370 |
| 1 Child | 34% | $10,370 | $3,526 | $24,820 | 15.98% | $46,884 |
| 2 Children | 40% | $14,570 | $5,828 | $24,820 | 21.06% | $52,493 |
| >2 Children | 45% | $14,570 | $6,557 | $24,820 | 21.06% | $55,952 |
Source: CBPP.org
Example Scenario
Gwen and Stephan are married with three kids. This means that they will have an EITC phase-in rate of 45 percent. So, for each dollar they earn to a certain point, their EITC will increase by 45 cents until the phase-in ends or reaches the max IRS amount allowed.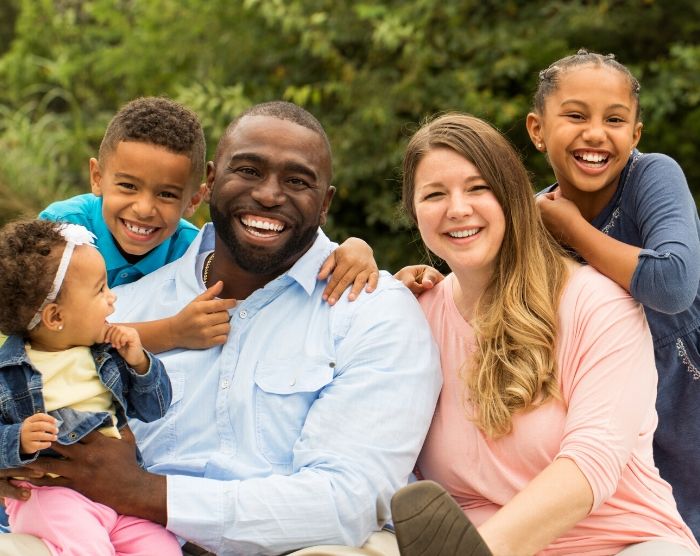 Things to Know about the Earned Income Credit
Now that you have the basics out of the way, let's go through a few of the most common questions.
When can tax refunds be expected?
If a claim is made on Earned Income Tax Credit, then the refund cannot be issued before mid-February.
You can also use the IRS2Go mobile app to check your status.
Do I qualify for EITC?
In order to qualify for EITC, you must have worked at a legitimate business establishment during the tax year.
File with Ease from Home Today!
How Do I claim for EITC?
You can claim your tax credit by filing taxes with your Tax Advisor and letting them know that you would like to take advantage of the Earn Income Credit.
Afterwards, be sure to finalize and review your tax information to make sure it's as accurate as possible.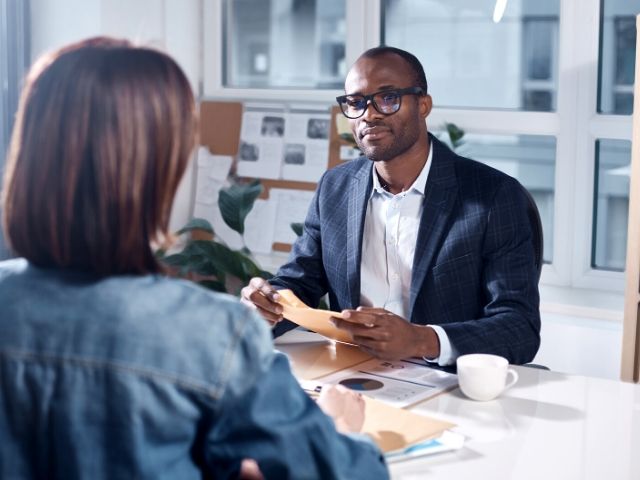 Am I eligible for Earned Income Credit as a self-employed person?
Yes, you can also apply for EITC if you are self-employed. In fact, all earned income that is earned can be considered as eligible for the credit. Just remember to take in consideration any tax deductions from throughout the year.
Income includes:
Wages
Salaries
Tips
Gross income received as a statutory employee (an independent contractor)
Long-term disability benefits received prior to minimum retirement age
Net earnings from self-employment
Union strike benefits
Can Investment Income also be considered for EITC?
No, Investment Income is not elgible for EITC. As a matter of fact, this particular income can also result in disqualification from the EITC.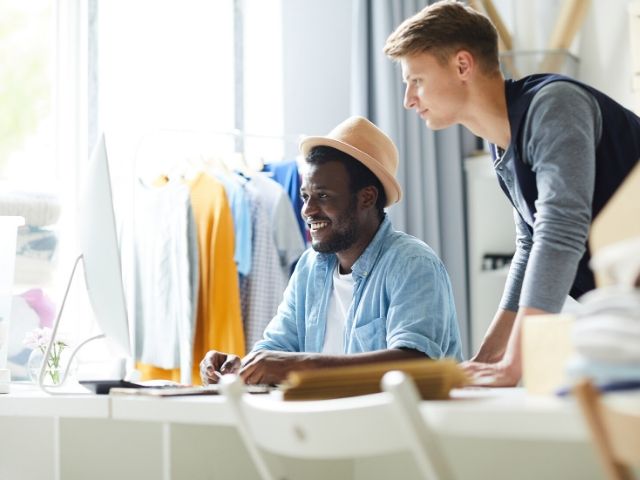 However, that is only in the case where income received is greater than $3600 in one year. This also includes income that is generated from rental properties, stock dividends, etc.
What are the other types of Income that do not qualify for EITC?
Alimony
Child support
Income that was received for work while in prison
Retirement income
Social Security benefits
Unemployment benefits
3 Tips to Make Your Earned Income Credit Process Easy
Let's go through a few things for you to remember when claiming EITC.
Keep Good Records: You'll want to keep all your needed documents in order to be able to show eligibility under the EITC program.
Understand the Phase-in and Phase-out scenarios: This will help you figure out where what rate you will fall into when qualifying for the EIC.
Be Honest About Your Situation: You will want to be as ethical as possible when speaking to your tax advisor about your EIC status. You don't want any unexpected letters from the IRS.
File with Ease from Home Today!
Final Thoughts
I hope this guide on the Earned Income Tax Credit helps you have a much easier tax season. This tax benefit has been put into place to give you a little lift and to help your family out.
For more money-saving tips and guides, subscribe to the weekly newsletter!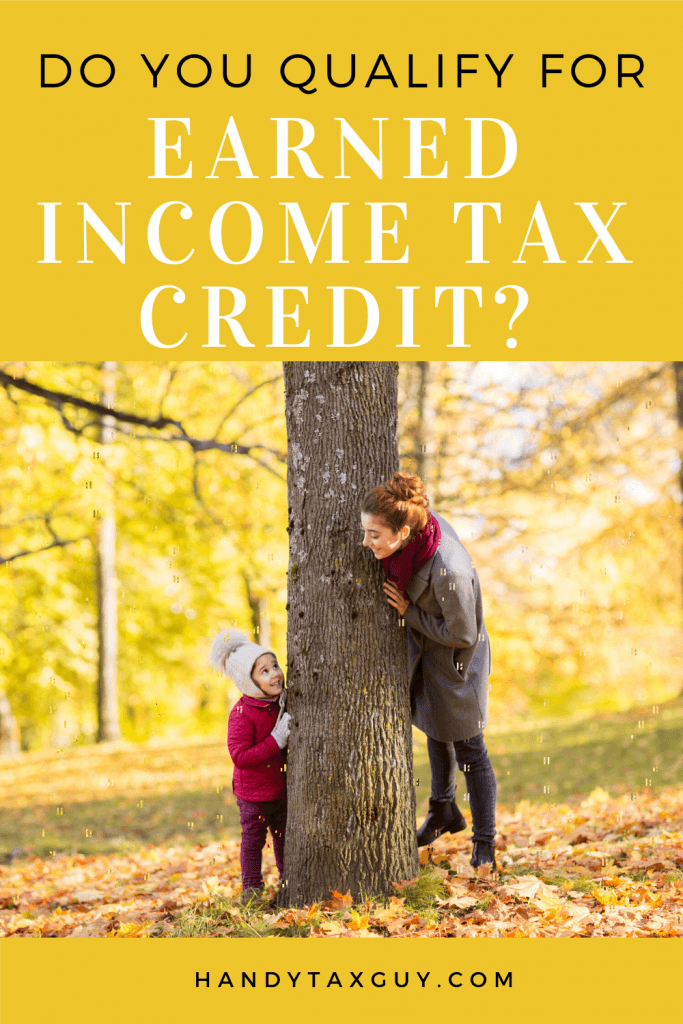 If you enjoyed this article, then you'll love these:
Get started on your taxes early here!
Until the next money adventure, take care!
Handy

Disclaimer Statement: All data and information provided on this site is for informational purposes only. The Handy Tax Guy makes no absolute representation of the correctness, mistakes, omissions, delays, appropriateness, or legitimacy of any information on this site. **Note: Each client circumstance will vary on a case-by-case basis**